Menwithquote shares practical tips and ideas on mens' life, Motivation, Health, Grooming, Dating, Entrepreneurship, success, General self-improvement, and much more.
Menwithquote is one of the fastest-growing Men's self-development websites worldwide; with articles and stories covering everything from motivation, success, grooming dating, quotes, entrepreneurs, self-development lessons, and more.
We have reached over 20 million views in the past 3 years on our website & social media, and amassed over 800,000+ followers on social media. We are continuing on our mission to inspire and motivate people around the world.
Welcome to our community, and we are so grateful to have you here with us. You can click on any of the buttons below to follow us on our social media channels; or to get in touch with the founder, Manish Mehta, head over to the 'contact' page.
Menwithquote™, owned and operated by Adclickr Media Limited, was founded in April 2018 by Manish Mehta, as a website to help motivate and inspire others to improve their own lives and live life on their own terms.
Isn't that what we all want to achieve?
Since then, Menwithquote™ has grown over the years, and become one of the leading self-improvement blogs on the web. We have over 800K social media followers.
If you're just joining us, then stick around! We're prone to making big changes on a regular basis!
---
Menwithquote™ is a blog dedicated to motivating and inspiring men around the world, regardless of where they come from or who they want to become.
Whether we achieve that through sharing successful celebrities' net worths, success lessons, quotes, or inspiring self-development stories; we hope that the end result is the same.
Here's what we've achieved in 4 years:
160 Million Page Views
Reached over 800,000 Social Media Followers
Featured in Opennews, Timebulletin, Coverageblog, Broadcastcover, Globestats, Youthistan magzine and more… and dozens of more publications.
Manish Mehta: My blogging journey so far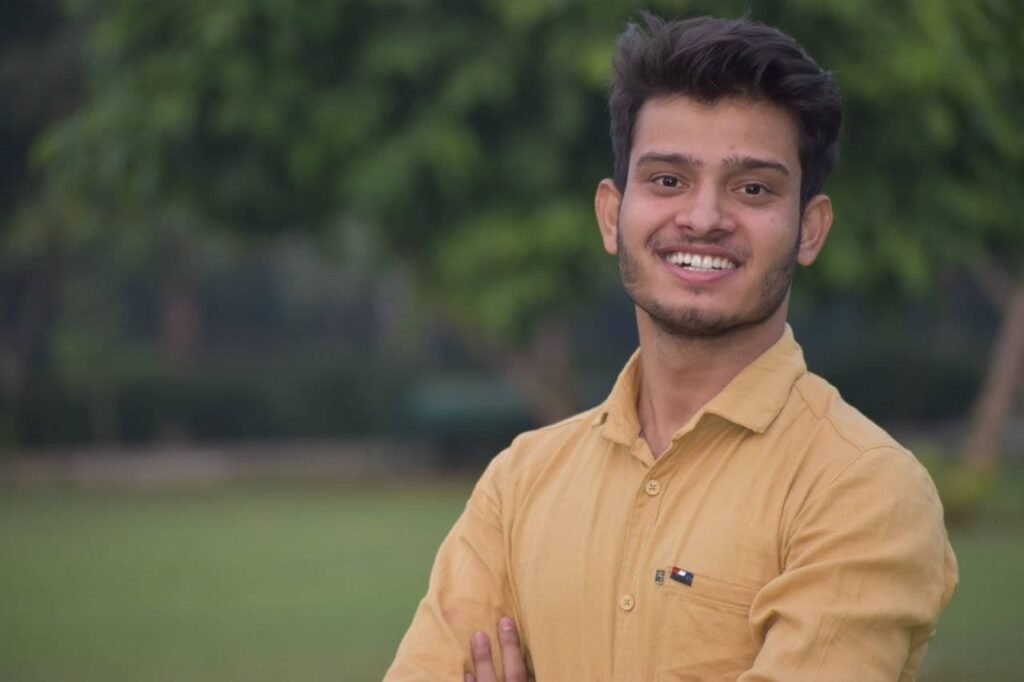 For the new readers, I'm Manish Mehta, Founder of Menwithquote
I'm to writing here my blogging journey which could help others to take up blogging as a serious career.
This is going to be a nice personal read, as it's about my blogging journey so far. So if you are passionate about blogging then only read it, otherwise, check out the other categories of menwithquote.
Getting back to my educational background, I completed engineering in Mechanical stream (2020), and by the end of my second year; I was started my first blog called Menwithquote.
My Blogging Journey: How I Started
I started blogging just out of fun in July 2016 and started writing about things I knew. I began my blogging journey on Google's BlogSpot platform. I was more interested in Men's Lifestyle and grooming, so I started with a BlogSpot Website Called "Zetlehub".
The first domain name which I wanted to be was the Gentlehub, which was already taken.
So I started with the domain name zentlehub.blogspot, and at the end of Four months I was getting appreciation from my readers I thought of investing in my blog but due to student life, I can't afford it.
How I stared My First blog
In June 2018 (summer vacation), I got my first smartphone and start searching for how to earn money online through my mobile phone. Then I got so many ideas and topics but blogging is my favorite one. Because I already did this 2 years before for 4 months.
Then I turned summer vacation into an opportunity. I spend countless hours learning and honing my skills in blogging through articles, YouTube with my new smartphone 😅.
In December 2018 I bought Web-hosting and a domain from and migrated my blog to WordPress.
Firstly I created a website called "Quotera" which was based on different types of motivational quotes which was ended in 2 months due to duplicacy of content because I was not getting much response on it.
By the end of 2 months, I was aware of the importance of branding a blog. Initially, I was thinking of some domain name with a keyword containing 'Men" So choose "Menwithquote" for its uniqueness and for better branding.
I had plenty of time due to the pandemic. And now it's more than 1 year of this blog. Since I had nothing else to do in those pandemic months, I dedicated myself completely to blogging. I used to spend almost 12 hours a day in front of my laptop, most of the time writing and learning new things.
Those pandamic months changed everything in my life and given me a new direction. I read as much as I could, and I studied many top blogs and how they succeeded.
My First Income from blogging:
As I mentioned, I started blogging out of passion and my love for writing.
I did not understand what AdSense was or what SEO was when I started. I was a hobby blogger and with time I learned about AdSense and other advertising programs. Though before that I learned SEO by reading lots of blogs and experimenting every day.
I still remember my first $3, which I earned via doing shoutouts for a 30-year-old American guy on Instagram because I had 10k+ followers on menwithquote's Instagram account. That was my first online income and that's how I discovered PayPal which enables anyone to receive payment globally.
Later on, I added AdSense, and in the first month, I made only $7 which I consider as a good start for a beginner.
Spare Time Blogger to A Professional blogging:
In January of 2021, When I completed my college degree, I took up blogging and social media marketing as my full-time career.
It was not a straightforward decision and convincing my family was not an effortless task, but I took my chance and selected what I liked. By that time I started making decent money that could take care of my daily needs.
My Venture:
My dream and vision now are to make an affordable social media tool called adclickr and a PPC agency. Currently, I'm working on it…
Like Rome was not built in a day. It will eventually take some time, but someday I will touch that dream, where I will have a big office and many bloggers and PPC experts will be writing on their blogs sitting in their office.
Many people have asked me on my Ig, how do I manage multiple blogs and social media accounts and now adclickr. It's not an easy task to maintain multiple blogs and their social media presence. That's why I'm currently working 14 hours a single day because I can't hire people at that time.
The biggest challenge as a blogger:
The last 3 years have been amazing, but it also comes with a significant price. This section is more of a suggestion if you take a route as a blogger, freelancer, or someone working from home.
Our work style requires minimum social interaction, less physical movement, no cheerleaders, and this has its advantage and a great disadvantage. So you need to find a balance to ensure you add enough social interaction in the form of YouTube interviews, Podcast interviews, social meet up in your community, join some interest groups.
You need to create a system that illuminates motivation and inspiration all the time to help you keep moving forward.
In a nutshell, you need to talk to more people in person or in the face. This will be really helpful in the time to come. I discovered this issue a little late, but taking certain actions as mentioned above helped me to get over this feeling.
Menwithquote is not just a blog for me, it is a home. I spend time here, because I know people who visit, they are going to add something meaningful in their life.
You can join me on YouTube & Instagram.
This post was written because many people wanted to know a little background about me, and about Menwithquote.
Want to get in touch?
Qualifications/Experience:
Senior Content write at SocialGyan
Search Engine Optimization and PPC Consultant
Created A Blog from Scratch to A 6-Figure Valuation
Reached over 20 Million Views Across All Blogs
Published in Opennews, Timebulletin, Coverageblog, Broadcastcover, Globestats, Youthistan magzine and more…
5 Years Digital Marketing Consultant Experience (Upwork/Menwithquote)
4 Years Wrting Experience
4 Years Blogging Experience
5 Years SEO Experience
Invested in Multiple Blogs
Believed in Myself – Priceless
Why Should You Follow Menwithquote™?
Menwithquote™ was created to help people improve their lives, whether they want to start a business, adopt positive and powerful habits, better control their emotions, build a strong mindset, or are even on the verge of giving up on their dreams.
The aim of Menwithquote™ is to help and inspire as many people as possible to live a life you love, achieve your dreams, and fulfill your true potential.
Here's a small checklist of some of the amazing content you can expect to find here:
Self-Improvement Articles – Designed to help you adopt good habits, become more productive, get out of your comfort zone, and generally improve your life.
Success Articles – Designed to help you succeed in life and in your career, whatever your definition of success may be.
Motivation – Compilations of the best motivational videos, articles, images, and more.
Entrepreneurship – If you're an aspiring entrepreneur, and are in need of advice that'll help you on the way, we've got that covered too.
Men's Lifestyle: The latest news, Articles, and discussion topics on Lifestyle and readers can improve or augment actions in their life to have a healthy lifestyle.
Grooming: these Grooming Articles To Keep You Looking Young For Longer. Give your face a stylish edge, Styling tips, fashion inspiration & trends to groom yourself.
Dating: Find free date ideas, the best places to meet guys, dating advice, online dating tips, and new dating apps on Menwithquote.
Quotes – You won't find extensive quote collections like this anywhere else on the web. We've published over 170 quote collections on WG, and that number is growing every day.
Hopefully, if you do decide to follow Menwithquote™, you'll enjoy reading content that inspires and motivates you to push yourself in life and create one that you desire, rather than living the average life you're not completely happy about.
Want Regular Updates?
If you want to stay up to date with what we're sharing then you could just type our URL into your browser every day… but where's the fun in that? To make sure you see and hear everything…
If you want the latest posts, as well as daily inspirational pictures & quotes:
Email Queries
PLEASE NOTE: The number of emails we receive these days is in the hundreds every week, and there may be a delay in our reply. So to make things simpler, please read the below information fully.
However, if you are interested in the following:
Collaboration
Blogging Coaching from Manish
Press Enquiries
Interviewing Manish on your podcast/blog
The email to contact Manish directly is: [email protected]
Here, you get the tools to make the ship that will carry you towards that vision, one day at a time.
Our Mission
In this day and age, there's no shortage of information out there that promises your self-improvement. There is so much content available that finding something genuinely useful is really, really hard.
That's why our writers are focused on aggregating the most mind-blowing and actionable content in concise, easy-to-use posts.
Let's be real, we don't have the time to sift through pages and pages of fluff.
Our goal is to ignite a fire in you by giving you exactly what you need to change your life in a positive direction. We do that by giving you information, motivation, and accountability in bite-sized pieces you can swallow whole and implement immediately.
We all have a vision of just how incredible our lives could be if only we knew how to make our dreams a reality.
Let's Wrap This Up!
Once again, thank you for visiting Menwithquote™, and being a part of our community.
Don't forget to bookmark the site, and view our latest articles before you leave.
For the past 1 year, we've been ranked by numerous publications as one of the best motivational blogs/websites in the world.
To seek support from the community, find us on facebook.
To contribute a post, read the submission guidelines and send your contribution to [email protected] with "Guest Post" and the post title in the subject line.
Stay strong, be positive and share your voice with the world!
All the best,
Manish Mehta
Founder of Menwithquote.com